M&H Engineering Empowers a Multicultural Workforce with Datanomix
M&H is in the midst of a multi-year program to evolve the shop, transitioning from a company that started out primarily as a job shop into a high-volume production shop. Central to that effort is upgrading technology and processes while maintaining the core principles of great manufacturing that M&H has developed over the years. In addition, M&H employs a culturally-diverse workforce, so any new technologies must support effective communication to the many shop personnel where English is a second language.
How Rolar Products Empowers Employees With Datanomix

For Rolar Products, the employees are the heart and soul of the business. And as the leader of a technology-focused precision manufacturer, Jack Russell understands that technology is only useful when it helps your people perform better without the "big brother" factor. Rolar is using Datanomix to not only deliver better insights in real-time, but is doing it in a way that fosters communication and culture of innovation.
Watch the video to see why Jack and Rolar Products chose Datanomix over a number of other production monitoring alternatives out there.
THINK PIECE: The Fatal Flaws of First-Generation Monitoring Systems

One way to fire up our CTO and co-founder, Greg McHale, is to get him talking about the limitations of first-generation production monitoring systems.
Instead of subjecting everyone to an expletive-laden tirade about the evils of operator input and the complete lack of reason code compliance, we had Greg sit down and write out his views on why advanced analytics and machine learning are the only way to deliver the real-time insights needed for day-to-day performance monitoring, as well as the deep insights into overall factory performance for the leadership team over time.
Check out Greg's think piece that outlines the four flaws in first generation monitoring and how you can break free from mediocre monitoring—we think you'll find it informative and entertaining.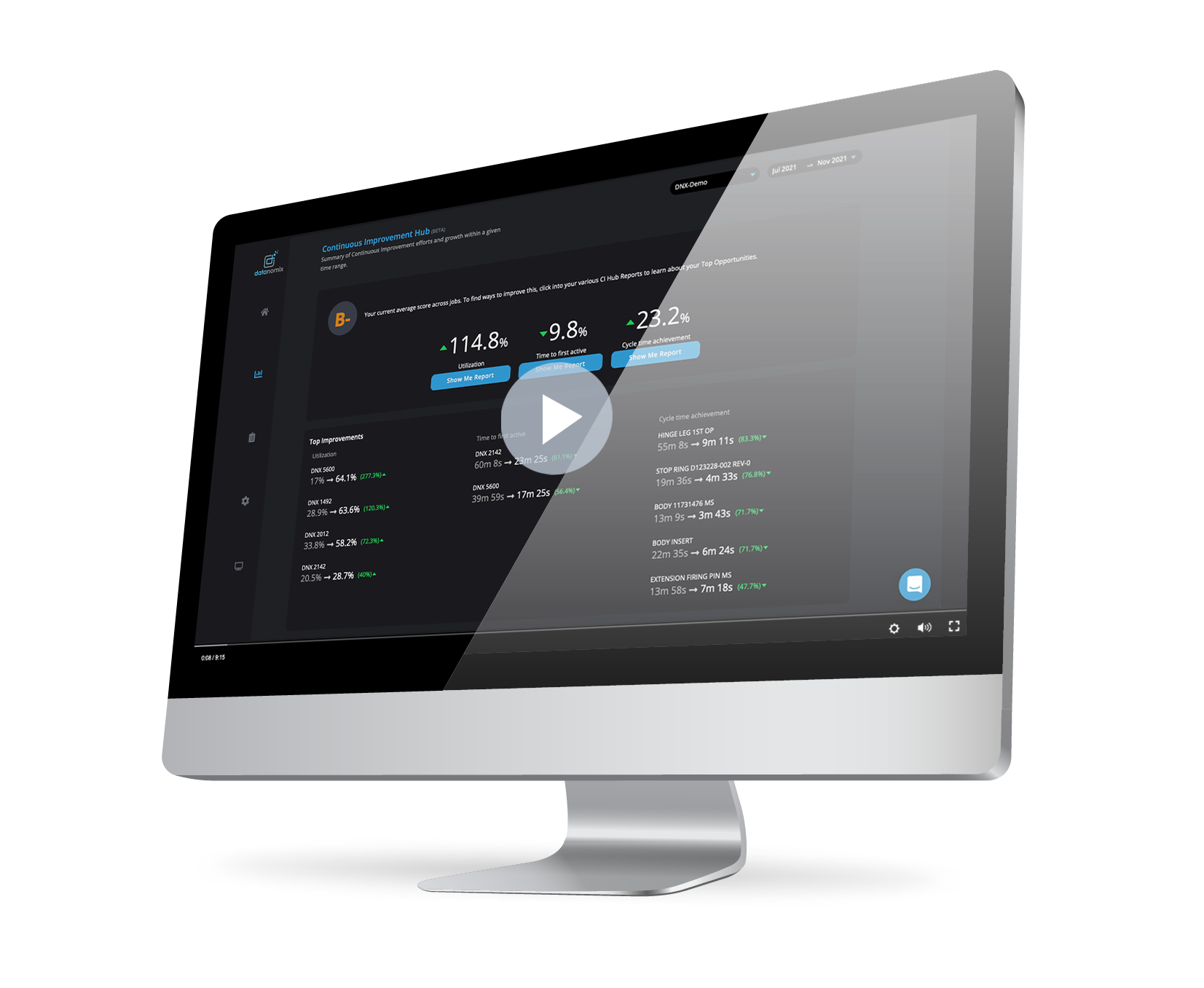 VIDEO: Automated Production Intelligence for Strategic Decision-Making

By working directly with manufacturers to thoroughly understand how you operate, the Datanomix platform was developed to assist with overall factory trends as well. Factory leaders can now enjoy our new Continuous Improvement Hub and updates to our Quote Calibration Report.
Check out the info-packed presentation, and walk away with a better understanding of how Automated Production Intelligence can improve your overall factory performance and increase the profitability of your business.
Customers are Winning with Datanomix
Our Latest Blog Posts


Today's manufacturing world is chock-full of sensors, data collection systems, and software that can convert monitoring data into something –…
News to Know About


Company rides twin tailwinds of increased demand for US precision manufacturing and the need for automation to alleviate labor challenges…
New reporting workflow provides clear factory performance indicators and automatically identifies and analyzes greatest improvements and risks to productivity NASHUA,…
Joint development will start with visualizing Caron Engineering TMAC tool performance data in a comprehensive Datanomix dashboard EASTEC 2021—October 19,…
Datanomix ROI Calculator
Calculate How Much Time Your Factory Can Save with Datanomix